On March 2-4,2023, China International Packaging Industry Exhibition (Sino-Pack2023) opened in Zone B of China Import and Export Fair Pavilion in Guangzhou! Techik detection (booth No.10.1S19) showcased its intelligent X-ray foreign body detection machine (referred to as: X-ray machine), metal detection machine and weight selection machine during the exhibition.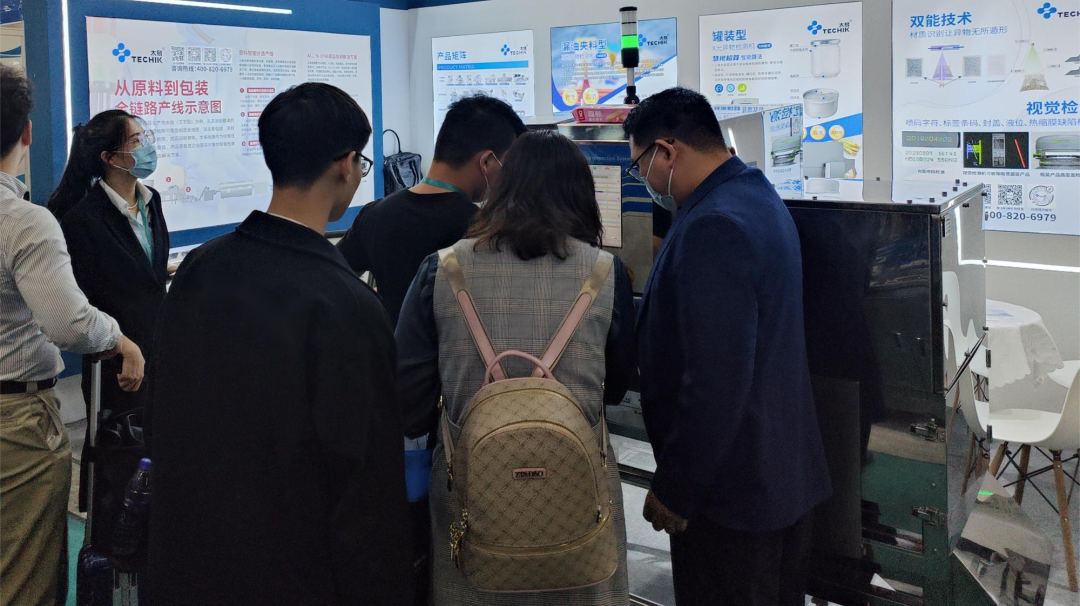 Sino-Pack2023 covers an exhibition area of 140,000 square meters. As an exhibition event of the whole industry chain of packaging, packaging products, printing and labeling, the exhibition also adds special areas for prefabricated food packaging and diversified materials xboutique packaging, which will attract professional visitors from 90 countries and regions.
Techik detection, with high precision and stable detection and sorting devices, won many visitors' consultation. As detection technology expert enterprises, based on multiple spectrum, pluripotent spectrum, sensor technology route, relying on the metal detection machine, weight selection machine, intelligent X-ray foreign body detection machine, intelligent visual detection machine and other diversified equipment matrix, Techik can provide targeted equipment model, foreign body weight appearance detection one-stop solution for different packaging products, helping solve the foreign body, overweight / heavy, leakage clips, product defects, spray code defects, heat membrane defects, such as quality problems. Techik can provide detection solutions for all kinds of packaging prefabricated vegetables, bagged, bottled, canning, Tetra Pak, bottled and other products.
The TXR-G series intelligent X-ray machine displayed in this exhibition can be equipped with dual-energy high-speed high-definition TDI detector and AI intelligent algorithm, which integrates various functions such as foreign body inspection, defect inspection and weight inspection, and can be suitable for the detection of prefabricated vegetables, snack food and other packaging products.
Intelligent + dual-energy X-ray inspection system

The dual-energy high-speed high-definition TDI detector not only makes the image clearer, but also recognizes the material difference between the tested product and the foreign body, and the detection effect on low-density pollutants and thin foreign matter is more significant.
Double-road detection improves the detection effect 

The IMD series metal detection machine displayed together is suitable for the detection of non-metallic foil packaging products. New functions such as dual-way detection and high and low frequency switching are added. It can switch different frequencies when detecting different products to effectively improve the detection effect.
High-speed, high-precision, and dynamic checkweigher 
IXL series checkweighers can conduct dynamic weight detection with high speed, high precision and high stability for packaging products. For different specifications of products can provide targeted rapid elimination institutions, quickly and accurately eliminate weight non-compliant products.
---
Post time: Mar-07-2023