Way to break the dilemma in the nuts and roasted seeds industry
With the proposal of "Made in China 2025", the whole industry chain of "Made in China" has to be upgraded to improve the quality standard of consumer goods. The giant enterprises in the nuts  and roasted seeds industry take the lead in the layout of intelligent production lines instead of traditional artificial ones. The ever-changing era with characteristic of "Intelligence" is around the corner.
 It is "No Impurities" that make increasing production and improving revenue possible.
As the raw material selection process in the traditional nut processing/sorting production line adopts the equipment + manual inspection and reject mode, there are three problems including low output, uncontrollable quality and high labor cost. In addition to traditional malignant impurities such as stone, glass, metal and straw, contaminants unique in nut raw materials including wormhole, disease spots, mildew, damage, and atrophy have become difficult-to-solve problems affecting product grade, price, and customer complaints.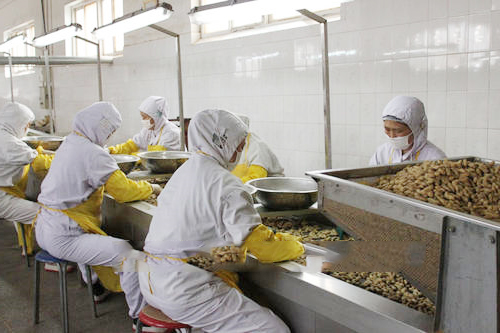 Figure: Traditional Peanut Sorting Line
Intelligent unmanned sorting production line came out, which breaks industrial wall barrier and removes stubborn disease. 
With more than ten years of experience in multi-spectral, multi-energy and multi-sensor applications, Shanghai Techik integrates technologies of infrared, X-ray and CCD, breaks down industry barriers, and takes the lead in introducing intelligent unmanned nut sorting solutions. The combination of intelligent chute color sorter + intelligent conveyor belt color sorter + intelligent X-ray inspection system for bulk products, creates an intelligent unmanned no impurity nut sorting production line, which gains great attention of upstream high-end customers.

Smart chute color sorter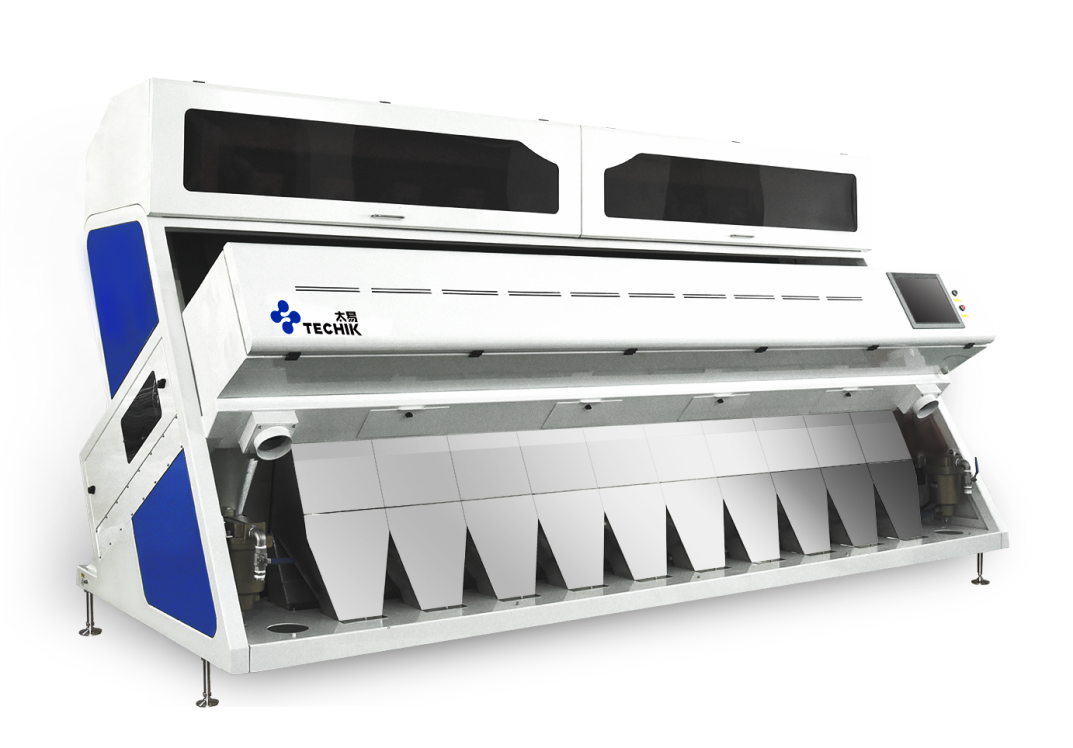 Based on Shanghai Techik TIMA platform, high output, high precision and high stability intelligent chute color sorter is greatly improved both from software and hardware. It is widely used in seed kernel and other bulk materials industry, and can effectively separate different colors, special shapes and primary impurities.
Intelligent conveyor belt color sorter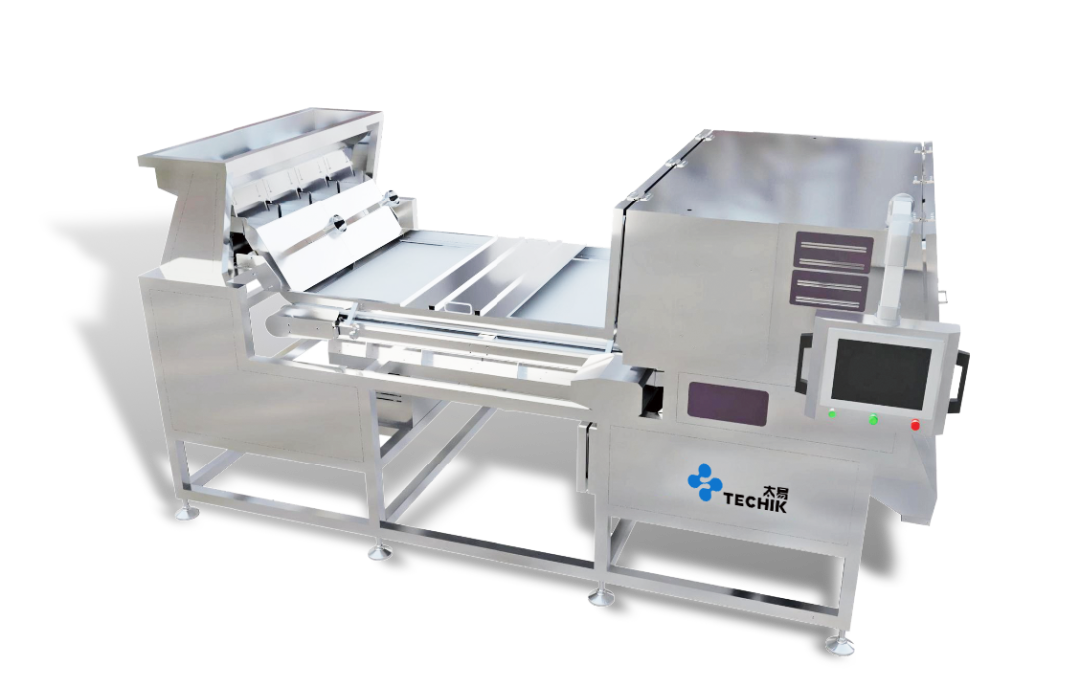 The new design concept of the super-shaped conveyor belt color sorter, which is added with intelligent algorithm system, can adapt to the complex separation of irregular materials, , and easily realize the separation of shape and color. Its human-oriented one-click start-up mode enables convenient operation and rapid implementation of efficient production.
Intelligent X-ray inspection system for bulk products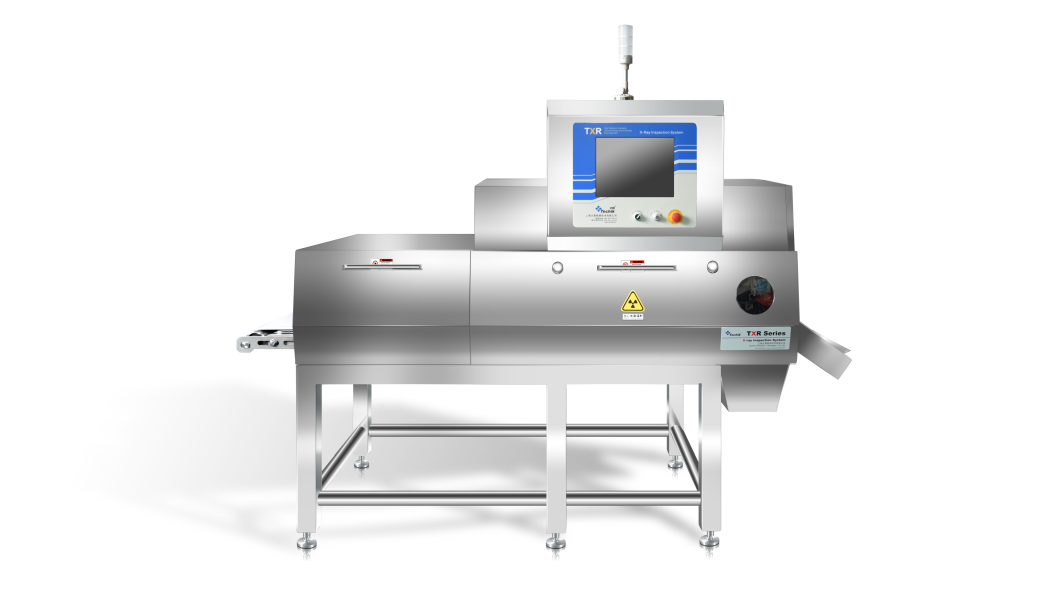 Shanghai Techik's newly-launched intelligent X-ray inspection system for bulk products, which adds new intelligent algorithm system, not only can effectively solve the problems of bad foreign bodies, harmful and malignant impurities in raw materials, but also have excellent performance in the sorting of organic impurities, bringing good news for bulk materials, roasted seeds, seed kernel and other industries.
Nuts and roasted nuts industry solutions create the new era of "purity/color/shape/image"
Extraordinary seed kernel solution
Overcoming the traditional stubborn diseases in seed kernel processing, Shanghai Techik launches a complete mature set of extraordinary seed kernel solution. The combination of intelligent color sorter, intelligent X ray inspection system based on TIMA platform, metal detector and color sorter, which take advantage of unique optical path design and powerful intelligent algorithm, can accurately and efficiently detect and reject wormhole, flower skin, empty shell, thin sheet plastic, thin sheet glass, mud block, stone, bandage, button, cigarette butts, sunflower plate, straw, nodule, Xanthium, animal dung ball, insects and other impurities.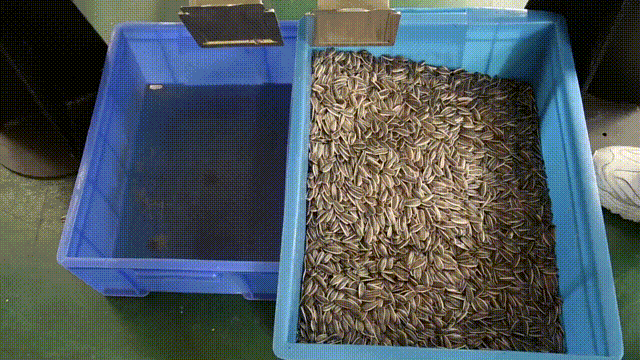 Upgraded peanut sorting solution
Shanghai Techik upgrades the original peanut sorting solution and grandly introduces the upgraded peanut sorting solution in 2021. In the newly-introduced solution, besides the original TCS series color sorter, intelligent chute color sorter, intelligent crawler color sorter and seed kernel color sorter are also used to sort color, shape and impurity. When intelligent X-ray inspection system for bulk product is added, malignant impurities can also be detected. That is, foreign bodies and bad products such as frozen peanut, rusty peanut, short bud, mildew peanut, disease spot, long round peanut separation, half peanut, peanut with mud, shell damaged peanut, embedded steel sand peanut, peanut rod, thin sheet plastic, thin glass, mud block, stone, tie belt, button, and cigarette butts, which are common found in peanut industry, can be accurately and efficiently detected and rejected by Techik's new peanut sorting solution.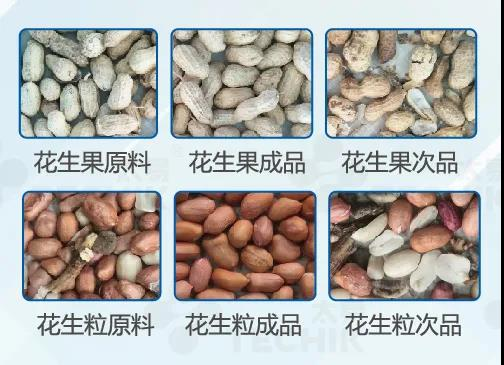 Perfect batam sorting solution
Aiming to solve the pain points, such as wormhole, double nut kernels, dry nut, fold nut, half nut and broken nut, in nuts industry, Shanghai Techik newly launches perfect batam sorting solution, in which customers can choose one or some of the following equipment to deal with their problem: intelligent color sorter, intelligent crawler color sorter, seed kernel intelligent color sorter, wormhole powder X ray machine, and intelligent X-ray inspection system for bulk product. At present, the solution is so mature that it is widely used and verified in the market and widely praised by industry customers.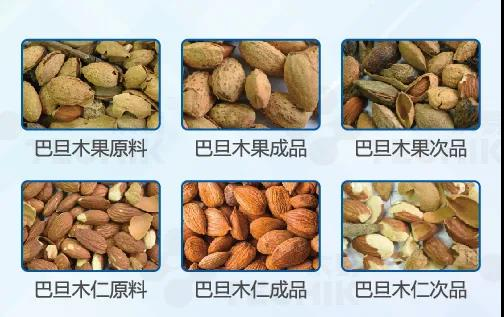 Flawless walnut solutions
Intelligent crawler color sorter with powerful shape and color selection function, together with high-definition high-speed intelligent X ray inspection system especially designed for walnuts, make it possible for a professional unmanned production line for walnut selection, which can detect contaminants such as empty walnuts, shrinking walnuts, mildew and wormhole. Based on the TIMA platform, high-definition high-speed detector, nut shell detection software and self-developed real-time system, with the high-speed spray valve system, can achieve higher accuracy, higher speed, smaller carryout ratio, greater output, lower loss, and higher efficiency.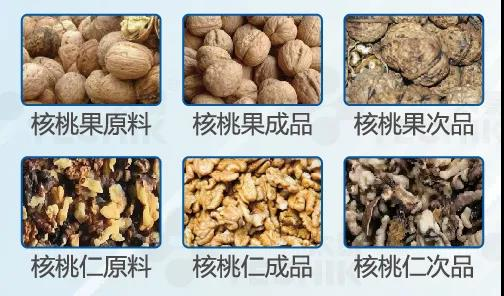 Relying on the strong R & D technical team, Shanghai Techik's production line is becoming more and more abundant and the whole category matrix of contaminant sorting and detection is quite complete. In the future, Shanghai Techik will continue to give full play to its resource advantages and continue to seek breakthrough and development. We sincerely invite industry colleagues and people from all walks of life to come together for common development and cooperation.
---
Post time: Apr-29-2021