On April 19th, 2022, Techik provided optimized detecting and sorting solutions for food manufacturing enterprises through an online Seminar, which names "Full Category, Full Link and One-stop Detecting and Sorting Solutions for Food Manufacturing Industry".
As the lecturer of this seminar, Mr. Wang Feng, a senior consultant of Techik, who has been engaged in the cause of food safety detection since 2013. He has nearly 10 years of industry experience, has served lots of domestic food industry enterprises, has a deep understanding of customer needs and technological changes. Also he is committed to helping food manufacturing enterprises protect food safety and practice "quality life, safety and peace of mind".
This seminar is divided into detection technology, application scenarios, solutions and other sections, focusing on the detection solutions on contaminant , weight, appearance and other aspects.
01  Metal detector - contaminant detection
https://www.techikgroup.com/high-configuration-conveyor-belt-metal-detector-product
Metal detector can detect and automatically reject metal contaminated products through the principle of electromagnetic induction. It is widely used in food manufacturing enterprises.
Techik's new generation IMD-IIS series metal detector further optimizes the receiving and transmitting demodulation circuit and coil system, so as to further improve the product sensitivity. In terms of stability, the balanced voltage of the equipment is more stable and effectively prolongs the service life of the equipment.
02. Checkweigher - weight control
Techik's checkweigher is combined with the automatic production line to detect and automatically reject overweight / underweight products, and automatically generate log reports. And Techik has different model options for bagged, canned and boxed products etc.

Breakage      Neglected loading    Various canned products
03. X-ray Inspection System - Multi-directional Detection 
Techik X-ray inspection system integrates high-specification hardware and intelligent algorithm. In addition to the conventional contaminant detection function, it can also detect the quality problems such as missing instructions, ice cream cracks, missing cheese sticks, sealing oil leakage and material clamping etc.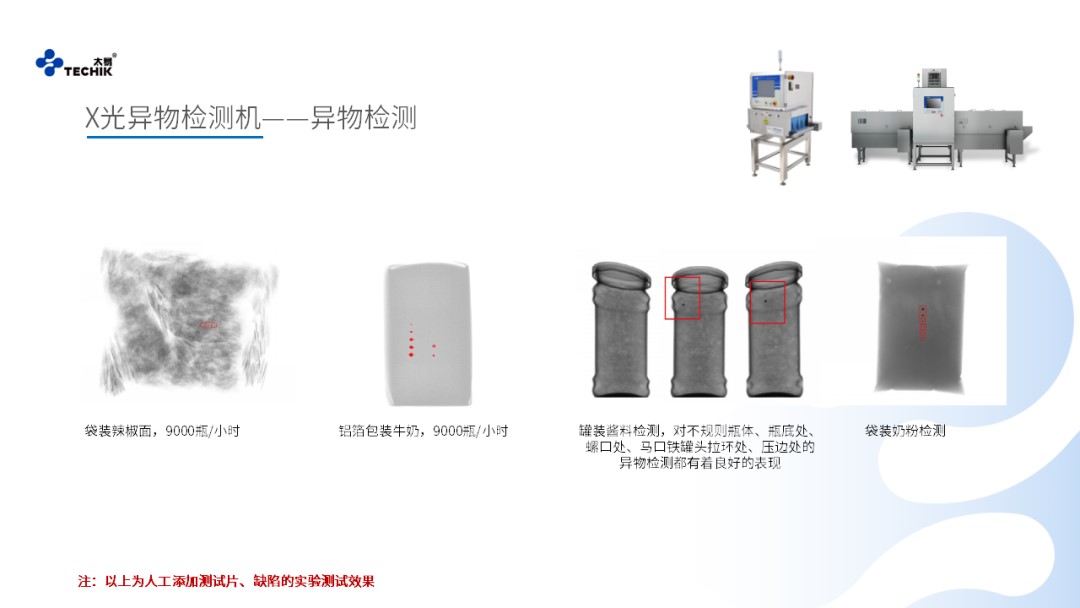 Bagged chili powder  9000 bottles / hour
Aluminum foil packaged milk   9000 bottles /hour
The detection of canned sauce has good performance in the detection of contaminant in irregular bottle body, bottle bottom, screw mouth, tin can pull ring and blank holder.
Detection of bagged milk powder
Note: the above is the test effect of adding test pieces manually and testing defects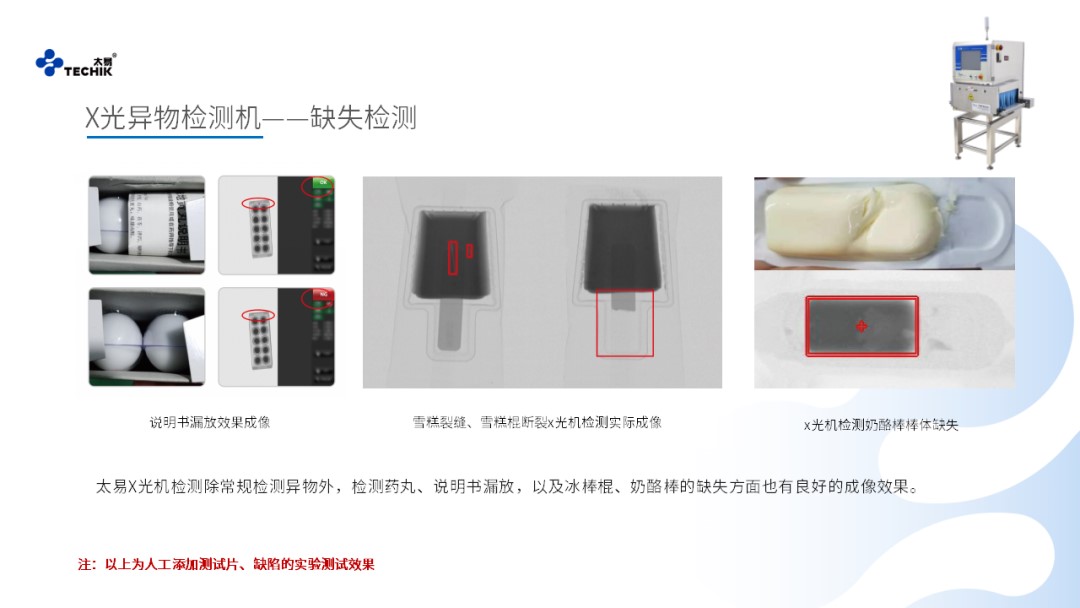 missing instructions/ice cream cracks, broken ice cream stick/missing cheese sticks
Note: the above is the test effect of adding test pieces manually and testing defects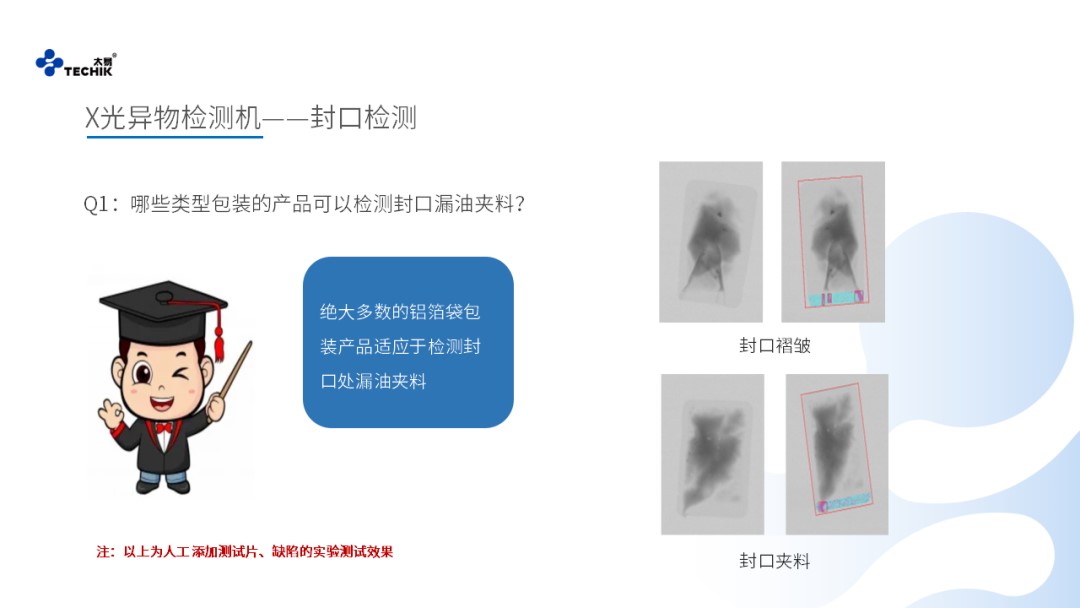 Sealing fold
Sealing clamping the material
Note: the above is the test effect of adding test pieces manually and testing defects
In addition, the dual energy X-ray inspection system breaks through the limitation of traditional single energy detection and can identify different materials. For frozen vegetables and other products with complex components, which is and uneven, its contaminant detection effect is better.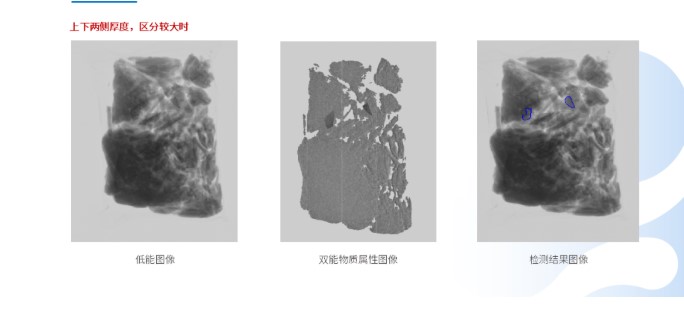 When the thickness of the upper and lower sides is greatly different
Low energy image/ Dual energy material attribute image/ Detection result image
04. Visual inspection machine - multi-directional detection
Techik visual inspection machine can flexibly configure the inspection scheme according to the needs of customers, and can detect various quality problems such as heat shrinkable film defect, code spraying defect, sealing defect, high skew cover, low liquid level and so on.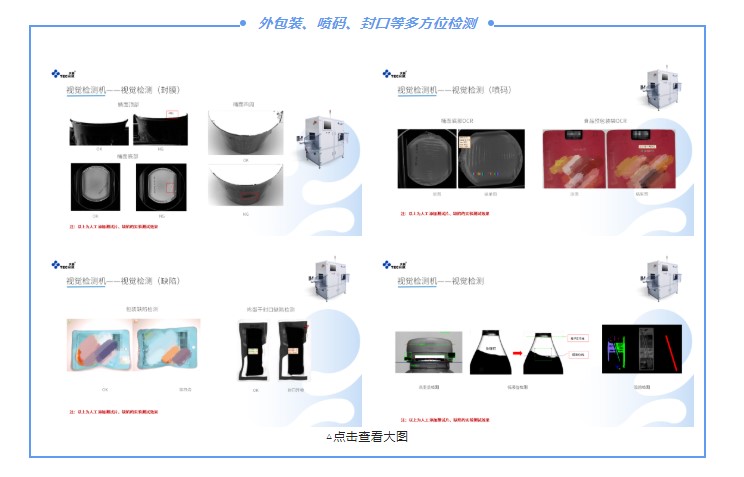 05. Covering the whole process and multi link detection scheme
Techik can provide targeted testing equipment from before packaging to after packaging, to help customers improve product quality and create a new and efficient automatic production line.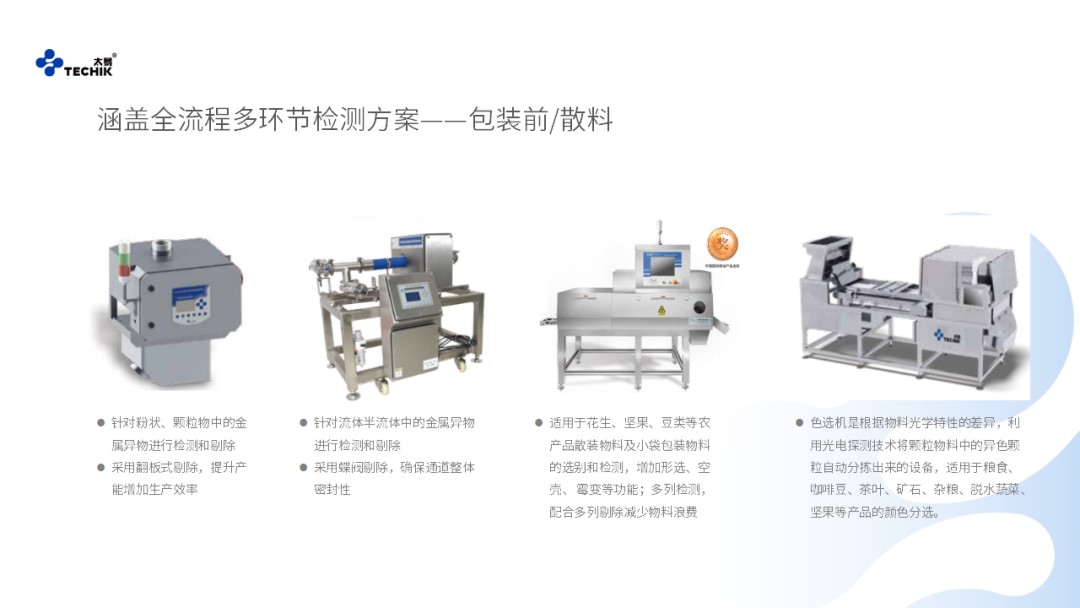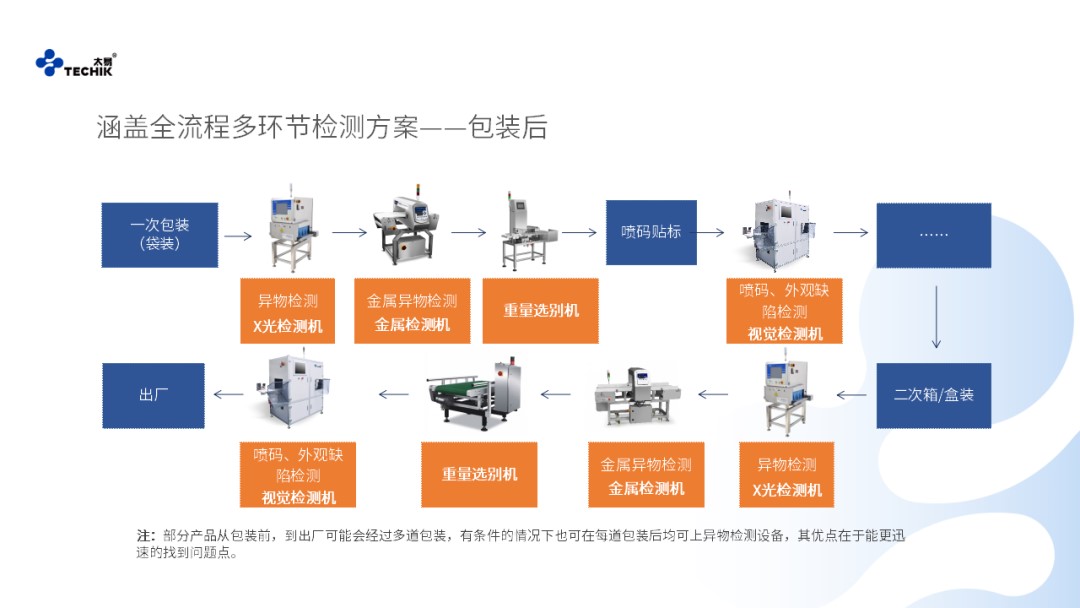 ---
Post time: Apr-27-2022