Shanghai, China – From May 18th to 20th, 2023, the SIAL China International Food Exhibition took place at the prestigious Shanghai New International Expo Center. Among the exhibitors, Techik stood out with its cutting-edge intelligent inspection technologies, leaving a lasting impression on industry professionals and visitors alike.
At booth N3-A019, Techik's expert team showcased a range of intelligent inspection solutions, including the innovative X-ray inspection system, metal detection machine, and checkweigher. These advanced technologies sparked discussions on the industry's emerging trends and the transformative potential of intelligent inspection.
SIAL Food Exhibition is renowned for its ability to unveil global and domestic products, providing a platform for attendees to explore the future trends of the food and beverage industry. With 12 themed exhibition halls and over 4500 participating companies, SIAL offers unparalleled insights into industry developments and facilitates valuable business connections.
Techik took this opportunity to present its comprehensive range of detection equipment and solutions, specifically tailored to various stages of food and beverage production. From raw material acceptance to in-line inspection during processing, and even packaging, Techik's solutions captured the attention of visitors. In particular, the high versatility of our metal detection machines and checkweighers attracted widespread interest. Additionally, the dual-energy + intelligent X-ray machine impressed industry professionals with its exceptional precision and clarity in detecting low-density and thin-sheet foreign objects.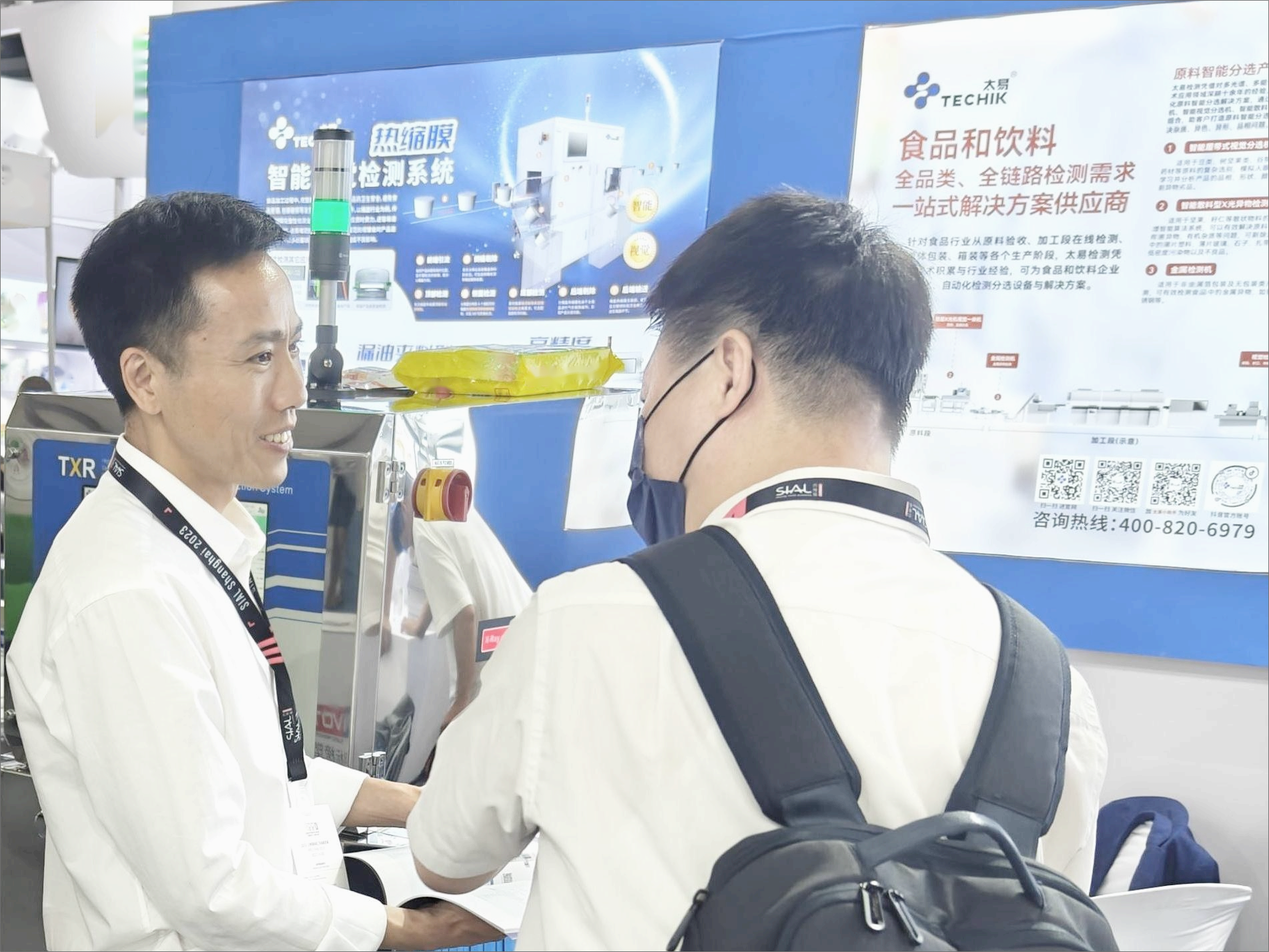 With an unwavering commitment to meeting the unique needs of the food and beverage industry, Techik offered personalized and comprehensive detection solutions for a wide range of products. Whether it was seasonings, ready-to-eat meals, plant-based protein beverages, hot pot ingredients, or baked goods, Techik demonstrated its expertise in addressing the industry's most pressing challenges. Our professional team engaged with visitors, fostering insightful discussions on food testing technology and strategies for enhancing product quality.
The showcased equipment from Techik, including dual-energy + intelligent X-ray machine, metal detection machine, and checkweigher, impressed attendees with our adaptability to different packaging formats. These machines delivered superior detection performance, remarkable product adaptability, effortless parameter settings, and simplified maintenance procedures. As a result, food and beverage companies can confidently rely on Techik's equipment to ensure the highest standards of quality and safety.
Acknowledging the comprehensive nature of the food and beverage supply chain, Techik offered a diverse range of equipment solutions to fulfill the industry's diverse detection requirements. By leveraging a matrix of equipment, including metal detection machines, checkweighers, intelligent X-ray inspection systems, intelligent vision inspection machines, and intelligent color sorting machines, Techik provided customers with seamless one-stop detection solutions from raw material inspection to finished product analysis. This comprehensive approach empowers food and beverage companies to address a multitude of challenges, including foreign objects, off-color products, irregular shapes, weight deviations, inadequate packaging seals, beverage liquid level discrepancies, product deformities, flawed coding, packaging defects, and various personalized detection needs.
Techik's participation in the SIAL China International Food Exhibition was a resounding success. Our advanced intelligent inspection technologies and comprehensive solutions solidified our position as a leading provider in the industry. By contributing to the establishment of more efficient and automated production lines, Techik continues to drive the industry towards excellence in food and beverage quality.
---
Post time: May-24-2023