*FEATURES OF TECHIK COFFEE COLOR SORTER
---
Techik coffee color sorters are effective tools for coffee bean manufacturers to achieve coffee bean sorting and grading, with lower carry-out ratio. Recently, the coffee bean sorting machines have been applied in different regions all over the world. Our clients all show approval and satisfaction about the machine's performance. Not only malignant impurities such as stone, thin paper, plastic, metal and etc., Techik Coffee Color Sorters can also be used to sort empty shells, black/yellow/brown beans out from baked coffee beans and green coffee beans.
*APPLICATION OF TECHIK COFFEE COLOR SORTER
Baked coffee beans and green coffee beans
To achieve the best impurity removal, Techik X-ray Inspection System can be added to find out and reject stone, glass and metal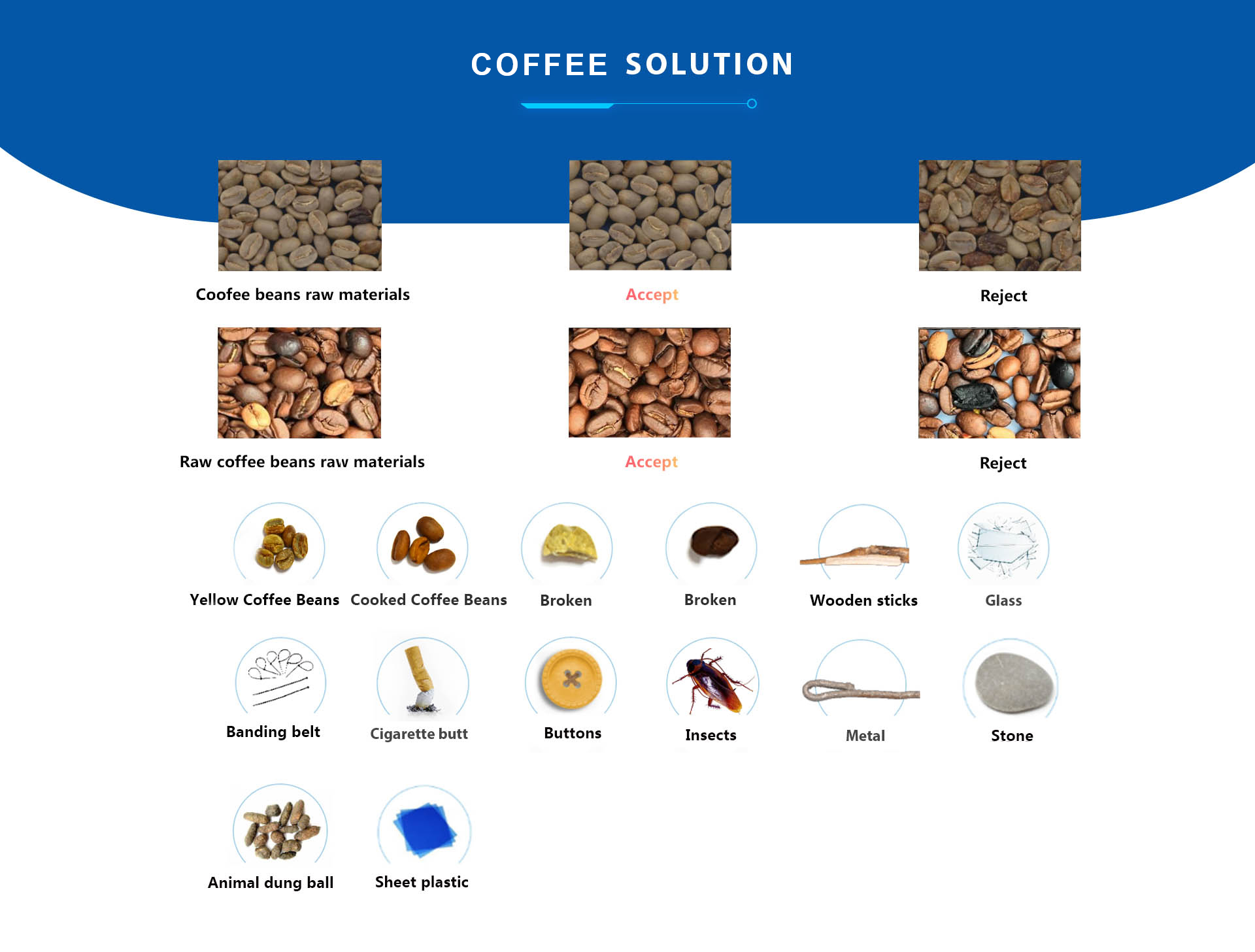 CONFIGURATION & TECHNOLOGY

EJECTOR
63/126/189…../630
Smart HMI
True Color 15" Industrial Human Machine Interface
Camera
High resolution CCD; Industrial wide-angle low-distortion LENs; Ultra-clear imaging
Intelligent Algorithm
Own proprietary industrial leading software and algorithm
Simultaneous Grading
Strong simultaneous color sorting+ sizing and grading capabilities
Consistency and Reliability
Featuring broadband cold led illumination, long-life serviceable ejectors, Unique optical system, the MULTIFUNCTION SERIES sorter delivers a consistent sorting performance and reliable operation in the long run
*Parameter
---
Model

Voltage

Main Power (kw)

Air Consumption (m3/min)

Throughput (t/h)

Net Weight (kg)

Dimension(LxWxH)(mm)

TCS+-2T

180~240V,50HZ

1.4

≤1.2

1~2.5

615

1330x1660x2185

TCS+-3T

2.0

≤2.0

2~4

763

1645x1660x2185

TCS+-4T

2.5

≤2.5

3~6

915

2025x1660x2185

TCS+-5T

3.0

≤3.0

3~8

1250

2355x1660x2185

TCS+-6T

3.4

≤3.4

4~9

1450

2670x1660x2185

TCS+-7T

3.8

≤3.8

5~10

1650

2985x1660x2195

TCS+-8T

4.2

≤4.2

6~11

1850

3300x1660x2195

TCS+-10T

4.8

≤4.8

8~14

2250

4100x1660x2195

Note

The parameter based on test results on peanut with around 2% contamination; It varies depending upon different input and contamination.